We roast all our coffees at our roastery in South Windsor, CT. We roast in small batches to ensure the beans are perfectly roasted and to bring out their best flavors, and we always offer an array of delicious and exciting coffees. We source our green coffees from around the world, purchasing only the best fairly traded, organic, shade grown, and direct relationship beans. We travel to origin to create relationships with farmers (the coffees we procure from them are our "Relationship Coffees") and to pick the very best lots for our blends and single origin coffees, including our microlots, which are available in limited quantities. Along the supply chain, we work to ensure that our coffee is produced and transported in the most ethical and environmentally sustainable way possible. We're proud of our coffee program — and even more proud that we've stayed true to our values in bringing these amazing coffees to you.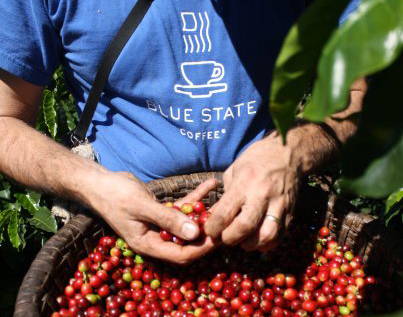 Purchasing our Coffees at Wholesale
Are you interested in serving Blue State Coffee to your customers or at your place of work? We offer our coffees in bulk with special pricing for our wholesale customers. Contact our Coffee Director, Gina, at Gina@bluestatecoffee.com.